Dining
Our dining partnership with Aramark has allowed us to improve the quality and nutritional value of our food options and to make more than $40 million in dining facility improvements across the campus.
University of Kentucky Dining was proud to announce the opening of Champions Kitchen in January 2018. The residential dining venue is located inside the new UK Student Center. Champions Kitchen was the first space in the Student Center to open as construction continued throughout the spring. 
The 750-seat Champions Kitchen offers multiple dining concepts including a scratch bakery, a breakfast station, hand-tossed salad bar and a "worry-free zone" where food is prepared in a gluten-, peanut-, tree nut- and shellfish-free kitchen.
Champions Kitchen — like other UK Dining facilities — uses locally sourced Kentucky Proud produce, meats, cheese and dairy products from producers such as Weisenberger Mills and Marksbury Farm.
Students, faculty, staff and campus visitors are all welcome to visit Champions Kitchen for a meal. The dining unit accepts UK meal plans, Flex, Plus Account as well as cash and credit.
"Our hope is that Champions Kitchen will enhance the quality of student life and build community to serve our students, faculty, staff and visitors," said Eric N. Monday, executive vice president for finance and administration.
Local Food
Farm-to-Table
UK has implemented two new programs through which we are purchasing more locally sourced vegetables as well as more pasture-raised meat from area farms. 
The programs - the Local Salad Bar Initiative and the Marksbury Farm Whole Animal Program - are intended to provide a stable and predictable market for Kentucky producers. 
Six partner farms for the Local Salad Bar Initiative are all located within 80 miles of campus. Additionally, the products are transported to campus by the Bluegrass Food Connection, a consortium of local farmers. This will result in nearly 24,000 lbs. of produce purchased by UK Dining from these farms. 

The Marksbury Farm Whole Animal Program will source Kentucky raised beef and pork for use in both residential dining venues - The 90 and Champions Kitchen. UK plans to purchase three cattle and five hogs each week from Marksbury Farm, a food hub and USDA inspected processing plant located in Lancaster, Kentucky. UK Dining will purchase approximately 37,000 lbs. of beef and 20,000 lbs. of pork from them. 
Locally owned and operated businesses are helping facilitate the logistics and delivery associated with these two programs.
We are serious about playing a leading role in growing a sustainable and resilient agro-food economy for the state. We do that by leveraging the university as a committed buyer of locally sourced products to develop and expand wholesale value chains for Kentucky-produced foods.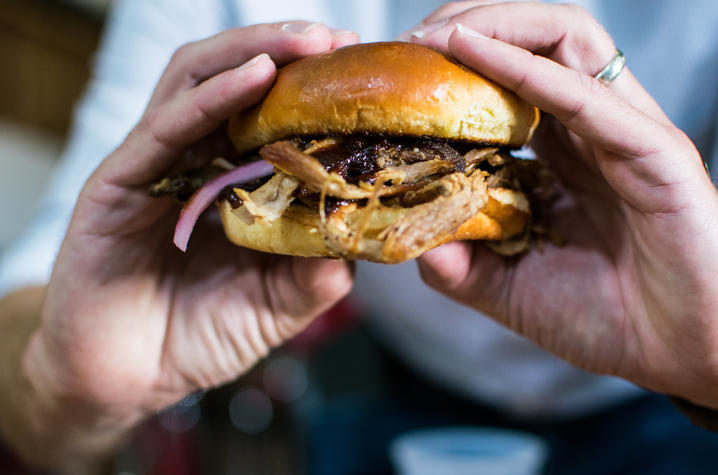 As the University for Kentucky, our work is deeply rooted in a sense of community and in a spirit of partnership. That's why as a part of 15-year contract with our dining partner, UK expanded its commitment to locally sourced food and organizations.  
In the first year of the institution's dining contract, not including beverages, UK increased local food purchases by approximately 20 percent. The institution plans to increase those purchases throughout the life of the contract, and has built the infrastructure to do so. UK is the only university in America with global food partner who has made a multimillion-dollar commitment to growing the local food economy.
UK will continue to partner with local and Kentucky Proud companies to provide healthy and affordable dining options to all the members of the UK community.
The Food Connection
The UK Food Connection, is an institute funded with a $5 million investment from Aramark to promote the study of Kentucky food in partnership with the College of Agriculture, Food and Environment. The partnership is designed to leverage the innovation and research of UK and the market position of Aramark to substantively grow a vibrant food economy in Kentucky.
Partnering closely with the Kentucky Department of Agriculture, Kentucky farmers, community partners and consumers, the Food Connection at UK aims to enhance the production, distribution and consumption of local and Kentucky Proud food products.
Details of The Food Connection include:
A faculty director and executive director to guide and implement programming, such as an annual Kentucky food summit and youth educational programming

Funding internships and fellowships in food innovation, dietetics and wellness at the undergraduate and graduate levels

Funding food innovation seed grants for faculty research on innovation in food and nutrition efforts as part of larger initiatives to grow a vibrant food economy in the Commonwealth

Sustaining and expanding collaborations with the UK Butcher Shop, Lemon Tree Restaurant and Food Systems Innovation Center as well as existing undergraduate majors in food and nutrition
The Food Connection is located in The 90. 
The 90
The 90 is a $32 million academic support and dining facility on south campus, funded by the dining public-private partnership with Aramark.
Every facet of this building was envisioned and planned with students in mind. It is home to innovative classrooms for Living and Learning Programs (LLPs), offices for the LLP's and many other student support spaces.
The dining component of this new facility further strengthens UK's promise to provide healthier food at lower cost to students, improve service, and enhance our commitment to locally sourced food. It also strengthens UK's promise to the community. The 90 provides the best practices in sustainable food service operation, making it a model for sustainability that other facilities can follow.
K-Lair
A campus tradition since 1961, K-Lair closed its doors in May 2013, as part of the construction of the new Haggin Hall. In fall 2014, the campus favorite returned at nearly three times the size, with 6,000 square feet of dining space and 230 total seats.
A comfortable environment for students to study and eat, the facility also boasts 16 televisions including a nine-TV media wall that can display nine different channels. The facility opens up to a courtyard with exterior seating, while seating variety inside K-Lair includes bar height, booth and traditional soft and hard seats.
The new design of K-Lair reflects its long legacy as a Wildcat eatery. Ties to the past include rustic reclaimed wood from a tobacco barn located in Winchester, Kentucky, and the original K-Lair sign, which has been restored. It incorporates modern aspects as well, with sustainable materials, 14-foot ceilings and a more robust kitchen. The menu also features Kentucky Proud products.