20TH ANNIVERSARY CELEBRATION
In May 2008, the U.K. Graduate School awarded Gifford Blyton, the Honorary Doctor of Letters degree and Coach Orlando "Tubby" Smith, the Honorary Doctor of Humanities degree at its Commencement.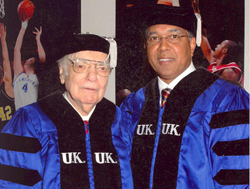 UKAEF celebrated its 20th anniversary of championing retiree causes and accomplishments with feast and song at the Hilary J. Boone Center on U.K. campus on April 7, 2009. After a delightful reception and meal, 125 UKAEF members and guests enjoyed the U.K. Opera Theatre and Kentucky Humanities Council presentation of four selections from River of Time, a folk opera composed by Professor Joseph Baber and libretto written by Emeriti Professor James Rodgers. The theme of River of Time, 200 years of Abraham Lincoln's contributions, opened with Lincoln's poignant 'Prayer to His Mother' recalling their happy life together in Kentucky. Next, Lincoln sang of his determination to be 'Free' from his father's exploitation. After he escaped his bondage by moving to New Salem, Illinois he fell in love with Ann Rutledge who was already engaged to another. In the third selection, Lincoln confided to his father James, that he felt like 'a lonely piece of driftwood searching for a place to fit in.' Ann returned his love but could not persuade her fiance to break their contract. She lamented her missed opportunities for happiness in 'Poetry and Lovenotes.'
Dr. Everett McCorvey directed the selections of Lincoln's quest for self-knowledge and personal destiny and U.K. opera students performed the folk opera selections. The entire River of Time composition was presented at the Lexington Center's Opera House on Oct. 8, 9 and 10, 2009. Members of the UKAEF 20th Anniversary Celebration committee included James Wells, Chair, Daniel Reedy, Robert Straus and Jean Pival.
Enjoy the photographs of attendees below.
| | | |
| --- | --- | --- |
| | | |
| Abe and Sue Fosson, James Drummond, Bill and Terry Green, Jackie Noonan, Bernie and Barbara Vonderheide, Tom Lillich | Ann Thurston, Bob, Carol (Miller) and Mary Lee Stroup, Dan Reedy, Robert Bostrom, Pat and Eldon Smith, Harry and Betty Hall | Bernie and Barbara Vonderheide, Blaine and Peggy Parker |
| | | |
| Bill Stober, Bill Green, Jean Pival, Ed Sagan, Jim Wells | Blaine and Peggy Parker, Bill and Mary Witt, Lorraine and Juan Rodriguez, Doug and Yvonne Dahlman | John and Jackie Van Willigan, Eldon and Pat Smith, Gifford Blyton, Bob and Mary Lee Stroup |
| | | |
| Mary Witt, Gifford Blyton, Jim Wells | Ron and Colleen Duell, Tom and Jan Mullaney | Ron and Virginia Atwood, Jody and Peter Bosomworth, Stan and Judy Saxe, James Drummond |