GENERAL MEETINGS
The Association of Emeriti Faculty holds four meetings annually on the second Tuesday of September, November, February and April. These are luncheon meetings, currently at the Hilary J. Boone Center on University of Kentucky Campus, and are open to all members and their guests. The event begins with a social period at 11:00 AM followed by lunch at 11:30. (Members are notified of the cost and menu of the luncheon in the UKAEF Newsletter sent about three weeks prior to the event; a request for reservations form is also included.) Lunch is followed by a presentation and discussion with a speaker of interest. A short business meeting and timely announcements conclude the program. The Association runs on a fiscal year of July 1st - June 30th. General meetings for the membership are held on the second Tuesdays of September, November, February and April.
In his talk to the Emeriti Faculty ("The Psychology of Humor"), Dr. Michael Nichols described the Feb. 9, 2016 event as "a homecoming - seeing many important people from his UK days, grateful - Thank You for rich memories you've given me being with you." Surrounding Mike prior to lunch are Sandra Miller, Ann Dickson, Ann Garrity, Charlotte Tulloch, Linda Gorman, Mike Nichols, Abe and Sue Fosson.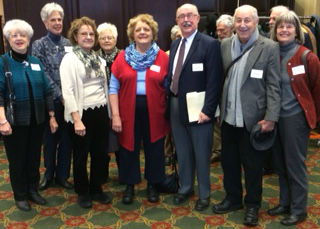 Larry Glover, veteran observer of sports in Central Kentucky (24 years), spoke to UKAEF members on April 12, 2016 - his title "It's More Than Just a Game."