STINK BUGS
Critter Files/Insects/True Bugs/Stink Bugs
By Blake Newton
University of Kentucky Department of Entomology
Common Kentucky Stink Bugs:
TAXONOMY
KINGDOM: Animalia | PHYLUM: Arthropoda | CLASS: Insecta | ORDER: Hemiptera | FAMILY: Pentatomidae (stink bugs)
Other Names: Pentatomids
WHAT IS A STINK BUG?
LIFE CYCLE
ECOLOGY
PEST STATUS
COMMON KENTUCKY STINK BUGS
COLLECTING & PHOTOGRAPHY
STINK BUG FACTS
MYTHS, LEGENDS, AND FOLKLORE
WHAT IS A STINK BUG?
Stink Bugs are in the order Hemiptera which also includes assassin bugs, plant bugs, and many other insects. All insects in Hemiptera share a few characteristics, including piercing and sucking mouthparts, and wings which are membranous and clear at the tips, but hardened at the base.
Stink Bugs, sometimes called "pentatomids" (from the family name Pentatomidae, which means "5-sided") are distinguished from other members of Hemiptera by their broad, shield-shaped bodies, 5-segmented antennae, and large "scutellums". The scutellum is a triangular-shaped part of the thorax. Although it is present on all insects, it extends halfway down the backs of stink bugs and is very noticeable. The scutellum is outlined in blue in the picture below: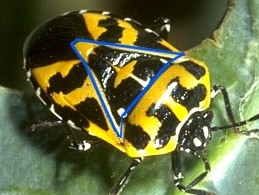 Harlequin Bug, showing scutellum (R. Bessin, 2000)
There are many species of stink bugs in Kentucky, and some have striking coloration, such as the Harlequin Bug pictured above. Other species are camouflaged with brown, gray, or dark green. Many stink bugs resemble Beetles, but remember that beetles have chewing mouthparts, and their hardened front wings meet in the middle over the abdomen, whereas the wings of stink bugs (and other Hemiptera) overlap.
SIZE: Body length up to 3/4"
LIFE CYCLE
Like all Hemiptera, stink bugs go through a simple metamorphosis with egg, nymph, and adult stages. During warm months, female stink bugs lay eggs which are stuck in clusters to leaves and stems. After hatching, the wingless nymphs molt several times before becoming full-sized, winged adults. Large nymphs or adults are usually the overwintering stage.

Harlequin bug eggs
(Photo courtesy USDA)

Nymph of the Spined Soldier Bug
(R. Bessin, 2000)
ECOLOGY
Stink bugs get their name because they are able to secrete a bad-smelling, bad-tasting fluid from pores on the sides of their bodies (many other members of the Hemiptera can do this as well). This secretion helps to protect stink bugs from predators. Still, stink bugs are often fed upon by birds, spiders, assassin bugs, and other arthropod predators (including other stink bugs). There are many different stink bug species in Kentucky. Some are predators and some are herbivores, and each type has a different ecological role.
HERBIVOROUS STINK BUGS: Most stink bugs are herbivores. They use their piercing and sucking mouthparts to feed on plant juices. Most are able to feed on a variety of plants, including crop species. Some of these are important pest species, and are discussed in detail below.
PREDATORY STINK BUGS: Although most stink bugs in Kentucky feed on plants, we have a few common species that prey on other arthropods. Like assassin bugs, predatory stink bugs use their mouthparts to drain fluids from arthropod prey, including caterpillars and other pest insects. Some predatory stink bugs are important beneficial insects in crops and gardens.

Spined Soldier Bug feeding on a caterpillar
(R. Bessin, 2000)
PEST STATUS
There are several important stink bug pests in Kentucky, including the Brown Stink Bug, the Harlequin Bug, and 2 types of Green Stink Bugs. Each of these is discussed in detail below in the Common Kentucky Stink Bugs section.
COMMON KENTUCKY STINK BUGS

BROWN STINK BUG
GENUS and SPECIES: Euschistus servus
One of the most important is the Brown Stink Bug, Euschistus servus, pictured below. It is a pest of corn, soybean, and other plants. The Brown Stink Bug ios about 1 cm full-grown. Read more about the brown stink bug and its effects on corn at:
www.uky.edu/Agriculture/Entomology/entfacts/veg/ef305.htm

Brown Stink Bug (R. Bessin, 2000)

HARLEQUIN BUG
GENUS and SPECIES: Murgantia histrionica
The brightly-colored Harlequin Bug, Murgantia histrionica, pictured below, is a pest that feeds on cabbage, cauliflower, turnips, and related plants. The eggs of the harlequin bug are pictured above. The Harlequin Bug is about 1 cm full-grown.


Harlequin Bug: Adult & Nymphs (R. Bessin, 2000)

GREEN STINK BUGS
GENUS and SPECIES: Acrosternum hilare (green stink bug), Nezara viridula (Southern Green Stink Bug)
The Green Stink Bug, Acrosternum hilare, and the Southern Green Stink Bug, Nezara viridula, are pests on a variety of plants, including corn, soybean, and cotton, plus orchard plants like cherry trees and orange trees. These stink bugs are both found in Kentucky, but are more important pests further south in the United States. The two species are virtually identical in color, shape, and size (about 18 mm full-grown).

Green Stink Bug (R. Bessin, 2000)

Green Stink Bug Nymph (R. Bessin, 2000)

SPINED SOLDIER BUG
GENUS: Podisus maculiventris
The predatory Spined Soldier Bug, Podisus maculiventris, pictured below, is a beneficial insect that feeds on insect pests. It is common in field crops, gardens, and in weedy areas where it feeds on caterpillars and other slow-moving arthropods. The spined soldier bug is pictured feeding in the Ecology section above. The spined soldier bug nymph is also pictured above. The spined soldier bug is about 1 cm long, full-grown.

Spined Soldier Bug (R. Bessin, 2000)

TWO-SPOTTED STINK BUG
GENUS and SPECIES: Perillus bioculatus
The red and black Two-Spotted Stink Bug, Perillus bioculatus, below, is a predatory stink bug associated with crops and gardens. It is usually about 8mm long.

Two-Spotted Stink Bug (R. Bessin, 2000)

ROUGH STINK BUGS
GENUS: Brochymena
Kentucky is home to several Rough Stink Bugs (also sometimes called "arboreal stink bugs" or "tree stink bugs"), like those pictured below. These stink bugs belong to the Brochymena genus. Commonly-encountered species have rough, dark-brown bodies, and this coloration may provide camouflage on tree bark. These species are usually fairy large, with body lengths of up to 15mm.

These stink bugs are often referred to (including, previously on this page!) as predators, although this may not be true. Work by Jay McPherson from Southern Illinois University shows that common Brochymena species are primarily herbivorous, although occasional predation may occur.

Rough Stink Bug (R. Bessin, 2000)

Rough Stink Bug (R. Bessin, 2000)

RED-SHOULDERED STINK BUGS
GENUS: Thyanta
Red-Shouldered Stink Bugs, like the one pictured below, are members of the genus Thyanta. They are herbivorous and are found in a variety of weedy habitats. They are about 1 cm long.

Red-Shouldered Stink Bug (R. Bessin, 2000)

MORMIDEA spp.
GENUS: Mormidea
Pictured below is a small (5 mm) stink bug from the genus Mormidea. These stink bugs are common in weeds and other low-growing vegetation.

Mormidea Stink Bug (B. Newton, 2002)

RICE STINK BUG
GENUS & SPECIES: Oebalus pugnax
The Rice Stink Bug, Oebalus pugnax, is an important pest in southern states like Louisiana where much rice is grown. In Kentucky, this insect feeds on grasses. It is about 3/8" long. Thanks to Steve Hahus, a high-school teacher in Owensboro, KY, for allowing us to use this image!

Rice Stink Bug (S. Hahus, 2005)
COLLECTING & PHOTOGRAPHY
There are many species of stink bugs to collect, and some are as colorful as beetles, so they are always a nice addition to an insect collection. Look for stink bugs on warm days in gardens, crops, weeds, trees, and just about any other kinds of vegetation. They are normally slow moving and do not fly readily, so they are easy to capture and will usually remain still for a photograph. Be careful: some of the predatory species can give a painful (but harmless) bite if handled.
Predatory stink bugs can also be kept as pets, and usually do well in captivity, although most species only live for a year or two. Pet stink bugs can normally be cared for in the same way as pet assassin bugs.
STINK BUG FACTS
Because some stink bugs are good predators, scientists are interested in using them as natural control agents of crop pests. Read about the importance of the spined soldier bug in Wisconsin:
http://www.entomology.wisc.edu/mbcn/kyf208.html

MYTHS - LEGENDS - FOLKLORE
Stink bugs have a reputation for being "smelly." Although it is true that stink bugs release an odor when disturbed or when crushed, many other insects have this same characteristic, including most other true bugs, ants, and many beetles (e.g. ladybugs).
---
Original document: 25 May 2004
Last updated: 9 July 2010

Photos courtesy R. Bessin and B. Newton, University of Kentucky
The Kentucky Critter Files are maintained by Blake Newton, Department of Entomology, University of Kentucky.
Contact: blaken@uky.edu