TAXONOMY
KINGDOM: Animalia | PHYLUM: Arthropoda | CLASS: Insecta | ORDER : Hymenoptera | FAMILY: Formicidae
WHAT ARE ANTS?
LIFE CYCLE
ECOLOGY
PEST STATUS
COMMON KENTUCKY ANTS
COLLECTING & PHOTOGRAPHY
ANT FACTS
MYTHS, LEGENDS, AND FOLKLORE
WHAT ARE ANTS?
Ants are special types of wasps that have evolved into highly social organisms. All ants live in organized colonies composed of different types of ants that are specialized for different types of labor. Worker and soldier ants lack wings, but queen ants and male (drone) ants have wings in most species. Ants also have distinct elbowed antennae. Certain wingless wasps, especially velvet ants, closely resemble true ants. These wasps will not have elbowed antennae, however. There are many species of ants in Kentucky. Most are black, brown, or red and are less than 1/2" long.
SIZE: Adult body length up to 3/4"
LIFE CYCLE
Like all wasps, ants undergo complete metamorphosis with egg, larva, pupa, and adult stages. As with bees and hive-dwelling wasps, ants have specialized members in each colony, and all of these members work together to care for eggs, larvae, and pupae. These "castes" include workers, soldiers, queens, and drones. Drones are male ants, and their only function is to fertilize queens. All worker and soldier ants are females, but only the queen ants mate and lay eggs.
Worker ants tending pupae

(B. Newton, 2003)

Winged carpenter ant

(B. Newton, 2003)
ECOLOGY
Because ant colonies often contain thousands of ants, these colonies often have an important impact on the surrounding ecosystem. There are many different species of ants, and each species has a slightly different diet, but most ants search for a variety of foods, everything from plants and seeds to other insects. Ants usually work together to gather food, and predatory ants can tackle large prey by attacking as a group. Most ants are able to defend themselves and their colonies with stings and bites (not all ants sting, but many do). Ants are preyed upon by birds, mammals, spiders, and other insects, including other ants. Ant colonies are usually built underground or in dead wood, depending on the species.
PEST STATUS
Although ants often eat lots of pest insects and are sometimes beneficial to humans in gardens or field crops, more often they are considered pests. Invading ants are one of the biggest urban pest problems in the United States, especially carpenter ants which sometimes damage homes. Read more in our ENTFact: Carpenter Ants. Ants also sometimes cause problems with their stings and bites, especially to allergic individuals.
COMMON KENTUCKY ANTS
CARPENTER ANTS
GENUS: Camponotus
Carpenter Ants are some of the most common and largest (up to 3/4" long) ants encountered in Kentucky. They make their nests in dead wood, including trees, buried stumps, and buildings. Carpenter ants search for a variety of foods, including insects, nectar, pollen, seeds, and fruit. Although they build their colonies in wood, carpenter ants do not eat wood, and, unlike termites, rarely cause serious damage to homes.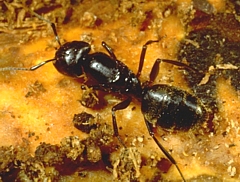 Carpenter Ant (R. Bessin, 2000)
COLLECTING & PHOTOGRAPHY
Ants are common and easy to find around homes, lawns, and gardens where they search the ground and plants for food. Because of their stings and bites, great care must be taken when collecting an ant or trying to get a picture. If you are allergic to wasp, ant, or bee stings, you should never try to catch an ant (ask your doctor to test whether or not you are allergic). Ants should never be touched, and should be caught only in a net or a jar and transferred immediately to a sturdy glass container. It is usually possible to get a picture of an ant as it visits a flower.
ANT FACTS
Despite the problems that they sometimes cause, ants are very interesting creatures, and many scientists spend lots of time observing them and learning about them. Antbase.org is great site for scientists who want to learn more about ants and the study of ants. It includes information on many individual ant species.
MYTHS - LEGENDS - FOLKLORE
A Burmese folk legend (sent to us from Casey Saunders, who read it from a document packed with an ant puppet!) explains why ants are everywhere. According to the legend, all the animals of the forest were attending a feast to celebrate King Lion. The ant ambassador was unable to make it on time because she was small and slow. King Lion complained to the Ant Queen about this rudeness - she secretly retaliated by sending a worm into the lion's ear. When the lion returned to his court, he discovered this maddening malady. After suffering for days, the lion asked for help from the ants. The Queen Ant visited the lion and whispered in his ear, telling the worm to go away. In his gratitude, King Lion proclaimed that ants were to live all over the world!
---
Original document: 25 May 2004
Last updated: 15 June 2005

Photos courtesy R. Bessin and B. Newton, University of Kentucky
The Kentucky Critter Files are maintained by Blake Newton, Department of Entomology, University of Kentucky.
Contact: blaken@uky.edu