home | about | digitized newspapers | ky-ndnp team | tech talk
media | faq | blog | facebook| twitter | youtube
digital library services | kentucky digital library | chronicling america


PODCASTS

From April through July of 2011, KY-NDNP produced a series of minute-long episodes taken from Kentucky's digitized historic newspapers. Each podcast examines Kentucky's journalistic craft in a mostly light-hearted, always informative, fashion.
Executive Producer: Stacy Yelton | Produced by: Kopana Terry, John Lumagui, Alan Lytle | Written by: Kopana Terry | Engineered by: John Lumagui | Video Production by: Kopana Terry | Voicing by: Kopana Terry, John Lumagui, Joe Conkwright | Music by: Ellis Marsalis Mozartiní

ASSORTED MEDIA
Kentucky's pioneering ways in NDNP made possible meta | morphosis [university of kentucky film-to-digital institute]. From 2006 through 2009, the KY-NDNP team lead the institute from the University of Kentucky campus with 2 days of intensive instruction. Every aspect of film-to-digital production is covered; from making good microfilm to applying good metadata to the digital data. In 2012, meta | morphosis was transformed into a collection of self-paced learning tutorials freely available to anyone around the world with internet access.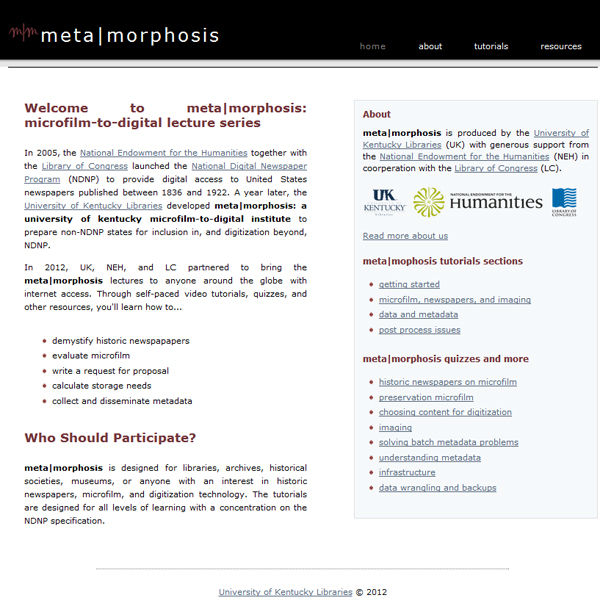 In 2009, KY-NDNP produced a short film about our in-house newspaper digitization production process. It debuted later that year at Chronicling America's 1 million page celebration at NEH in Washington, DC. A humorous version of the same film can be seen on our YouTube channel.
In June 2010, KY-NDNP Principle Investigator, Mary Molinaro, spoke with then University of Kentucky president, Dr. Lee T. Todd, about the historic newspaper digitization program UK Perspectives.
If you're social, join our discussions on the KY-NDNP Facebook group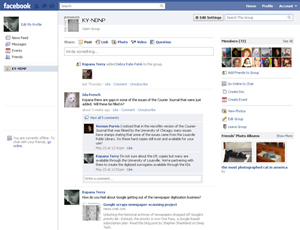 ...or follow KY-NDNP on Twitter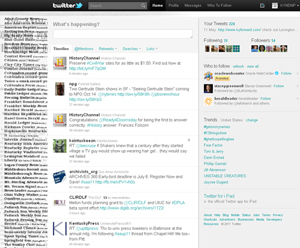 RSS our KY-NDNP blog and keep up to date!

PRESS