home | about | digitized newspapers | ky-ndnp team | tech talk
media | faq | blog | facebook| twitter | youtube
digital library services | kentucky digital library | chronicling america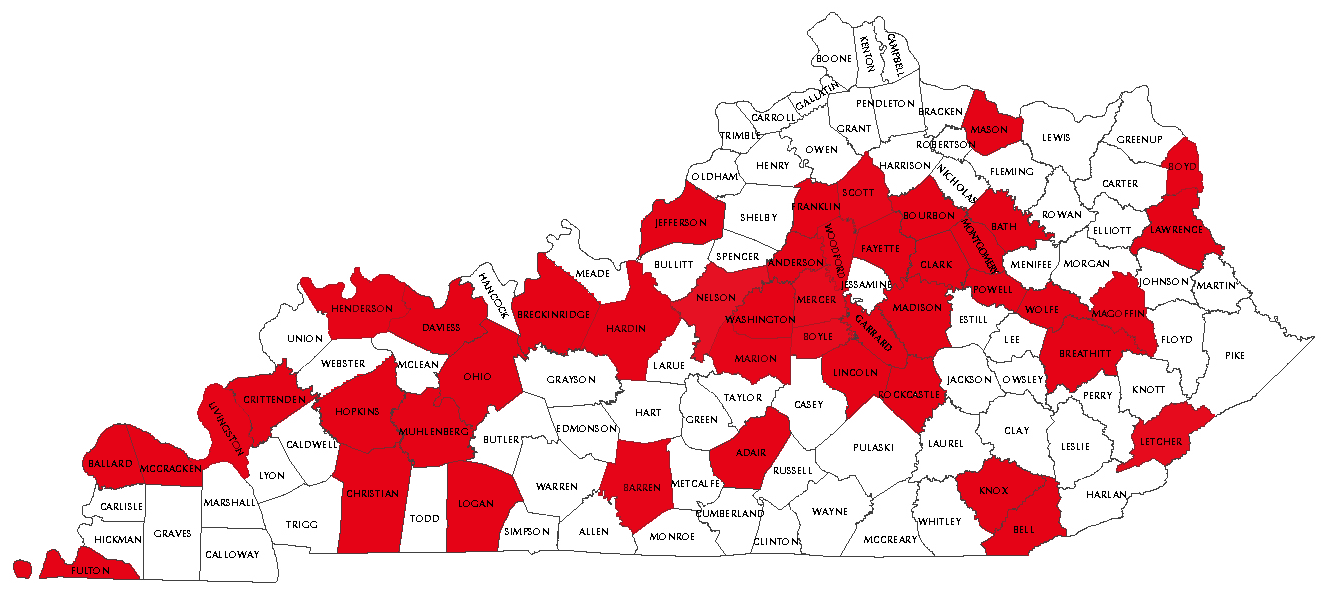 Counties in red have at least one title in our Chronicling America and/or Kentucky Digital Library collections. Ultimately, we will have representative content from all 120 counties of the Commonwealth. The lists provide detailed information on this and more.

KY-NDNP NEWSPAPERS
The nucleus of our digitized historic newspaper canon began with NDNP Phase I in 2005. Together with our KY-NDNP advisory board made up of historians, genealogists, archivists, and librarians from across the state, we chose to digitize 100,000 pages from 37 newspapers that best represented the state's six unique geographic regions. The prescribed date range was a single decade (1900-1910). That interval widened with each successive two-year grant cycle until the program's final expanse was reached in 2011 (1836-1922). Each cycle produced another 100,000 newspaper pages. The original 37 titles were digitized until their content on microfilm was exhausted while new titles were gradually introduced to the collection.
At the end of our third two-year grant cycle in 2011, over 300,000 pages from 59 Kentucky newspapers were available in Chronicling America and the Kentucky Digital Library. Each title is enhanced with a brief essay about its historical significance to the state, region, or nation, and each is fully keyword searchable.
Today, over 4 million digital newspaper pages from half the nation's states can be found in Chronicling America. The site also provides a newspaper directory of every United States newspaper from 1690 to the present that have been catalogued in OCLC's WorldCat database. Information on more than 2,000 Kentucky newspaper titles can be discovered here.
In addition to our NDNP content, over 100,000 pages from 100+ Kentucky newspapers are available in the Kentucky Digital Library (KDL). The NDNP specification does not allow newspaper content produced from positive microfilm, foreign languages (save for French, Spanish, and Italian per 2010 specifications), color images, or newspapers that were not cataloged as such according to the Library of Congress cataloguing standards (CONSER). Nearly all of the additonal content in the KDL falls into one of these categories.
The crown jewel of the KDL's historic newspaper collection is the state's oldest newspaper and the first west of the Allegheny mountains; the Kentucke Gazette (1787-1910). Beginning five years before statehood, the newspaper supplied frontiersmen with vital political updates and news most important to pioneer life in the western territories. Presented in full color, the 4,000+ page archive is a virtual goldmine for researchers and history buffs alike.
The largest assembly in the KDL collection so far comes from our Civil War era newspapers. Upon completion in 2012, the 80+ titles in the collection will produce an estimated 50,000+ pages from 1850 through 1875 reconstruction. All have been digitized from our hard copy holdings and most are presented in full color. The collection is part of ASERL's cooperative digitization project, Civil War and the American South.
Not to be outdone, however, is the state's newspaper of record; Louisville's Courier-Journal (CJ). This full color digitization project began in 2009. The ongoing, multi-year project is expected to produce nearly one million pages that includes preceeding titles Louisvile Daily Journal and Louisville Daily Courier.
Kentucky's African-American and emancipationist newspapers are perhaps the rarest of the rare of the state's historic newspapers. Amoung our titles are the only known issues (4) of the Afro-American Mission Herald; famed editor R.C.O. Benjamin's Lexington Standard; and Cassius Clay's short-lived but highly acclaimed True American.
Kentucky has had her share of controversial newspapers of a different sort, too. The most notable was the Blue-Grass Blade. Edited "by a heathen in the interest of good morals", Charles Chilton Moore is known today as the father of Athiesm. He and The Blade not only supported the anti-religious movement but other unpopular issues of the time as well, such as temperence, vegetarianism, and women's sufferage. John Sparks' Kentucky's Most Hated Man: Charles Chilton Moore and The Bluegrass Blade (Wind Publications, 2009) highlights the unusual journey of the newspaper and the man.
In both Chronicling America and the Kentucky Digital Library can be found a host of other journalistic masterpieces, like orphaned titles Liberty and It; labor union newspaper Ohio Valley Worker; one of the longest running community interest newspapers, Louisville's Kentucky Irish American; temperence newspapers Citizen and Kentucky Vindicator. These and more are uniquely styled by editiors and publishers as interesting and varied as the communities they informed.

NEWSPAPERS ON MICROFILM
The University of Kentucky Libraries maintains the largest and most comprehensive collection of Kentucky newspapers in the Commonwealth. Together, the University Libraries and the University's School of Journalism collected Kentucky's newspapers throughout the 20th century. By 1955, with state funding and a donation by the Kentucky Press Association, the School and the Library established a newspaper microfilming operation to comprehensively collect Kentucky newspapers and to microfilm them on an annual basis. The microfilming operation systematically microfilmed large historic backfiles held by the School of Journalism and the Library.
In 1981, the UK Libraries became one of the first five institutions to receive National Endowment for the Humanities (NEH) funding to participate in the United States Newspaper Program. UK Libraries conducted the Kentucky Newspaper Project (KNP) from that time to 1991. Over the course of KNP, over 4,000 institutions were surveyed, 500 repositories were visited, and 5,000 titles were cataloged. Many institutions either donated or lent hard copy holdings to compile complete backfiles of historic newspapers. Over 1.5 million pages of newspapers were microfilmed during KNP alone.
Today, our master negative repository maintains over 30,000 reels of historic newspapers on microfilm, more than half of which were created according to the ANSI/AIIM standards and USNP guidelines. See our Microfilm Database for available titles/reels and ordering.

OPPORTUNITIES FOR DIGITIZATION
DONATING YOUR NEWSPAPERS FOR PRESERVATION AND/OR DIGITIZATION
Despite the vast efforts of USNP and local/state support, uncatalogued newspapers are still being discovered, thanks in part to NDNP. During Phase I alone, KY-NDNP found, and digitized, five previously uncatalogued "orphan" newspapers: Ohio Valley Worker, Kentucky Vindicator, Liberty (La Center), It and Afro-American Mission Herald. The University of Kentucky Libraries' Digital Library Services continues to receive historic newspapers from private donors, too, such as the Carrollton Democrat, The Dime, Louisville Times; Bath County Outlook, Kentucky Sentinel and many others. We encourage individuals, historical societies, libraries, or archives to reach out to us with their historic newspapers not yet filmed or cataloged, including missing content (pages or issues) for those titles already digitized. If you have historic newspapers that you'd like to preserve and share with the world, please contact NDNP Program Manager, Kopana Terry for more information.
PARTNERING WITH THE UNIVERSITY OF KENTUCKY LIBRARIES FOR DIGITIZATION
One of our favorite practices at the University of Kentucky Libraries is partner collaboration for the preservation and digitization of historic Kentucky newspapers. Since 2005 KY-NDNP has lead the charge, first with the Congregational Library in Boston, Massachusettes for the conservation, preservation, and digitization of the only known issues of the Afro-American Mission Herald. That was followed by our partnership with the Lexington Public Library (LPL) and the Wisconsin Historical Society to digitize the complete run of the True American (1845-1846). We teamed once more with the LPL to conserve and digitize the Kentucke Gazette (1787-1910). And, finally, the University of Kentucky Libraries and the University of Louisville have been working together to digitize Kentucky's newspaper of record, Courier Journal. If you're interested in partnering with us to provide digitial access to your historic newspapers, please contact KY-NDNP Program Manager, Kopana Terry, or Associate Dean, Mary Molinaro.
Please note that U.S. Copyright law is complex. All newspapers prior to 1923 are in the public domain and free of copyright. Newspapers published after December 31, 1922 may be restricted. If you have questions concerning copyright of your newspaper, please visit the informative copyright resource courtesy our friends at the California Digital Newspaper Collection.

COPYRIGHT
The use and reprinting of our newspaper page, article, or photo images is freely available. We ask only that you credit the University of Kentucky Libraries where applicable. There are a few exceptions (below). We continue to add diverse titles to our collection and this list will change accordingly.
U.S. Copyright law is complex. All newspapers prior to 1923 are in the public domain and free of copyright. Newspapers published after December 31, 1922 may be restricted. All newspapers in Chronicling America and the Kentucky Digital Library are free of copyright restrictions. Any use of KDL newspapers published 1923 to present must have copyright clearance from their respective publishers. The KDL cannot grant use on their behalf. If you have any questions concerning copyright, please visit the informative copyright resource courtesy our friends at the California Digital Newspaper Collection.