Paleontology of Kentucky
A Symposium outlining systematically, and briefly
describing with stratigraphic references the
various fossil forms of life indigenous to
the rocks of the Commonwealth,
arranged and edited

By
WILLARD ROUSE JILLSON, B. S., M. S., Sc. D.
State Geologist of Kentucky
From the separate manuscripts of
ROY LEE MOODIE, A. B., Ph. D.
ARTHUR CRANE McFARLAN, A. B., Ph. D.
AUGUST FREDERICK FOERSTE, A. B., A. M., Ph. D.
THOMAS EDMUND SAVAGE, A. B., B. S., M. S., Ph. D.
JAMES MARVIN WELLER, B. S., Ph. D.
WILLIAM CLIFFORD MORSE, A. B., A. M., Ph. D.
JOSEPH KENT ROBERTS, A. B., A. M., Ph. D. and
CHALMER LEWIS COOPER, B. S., M. S.

Illustrated with One Hundred and Thirteen Photographs, Maps and Diagrams
THE KENTUCKY GEOLOGICAL SURVEY
FRANKFORT, KENTUCKY
1931
adapted for the Web by Don Chesnut, 2008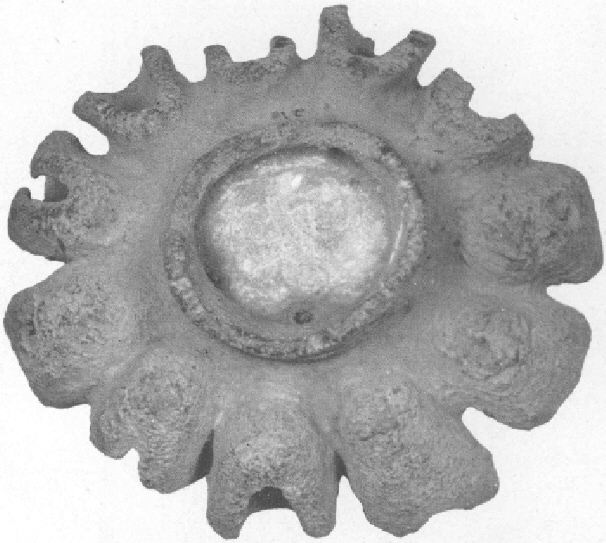 BRACHIOSPONGIA DIGITATA.
A rare Franklin County, Kentucky, Fossil Sponge from the Brannon (Ordovician) limestone. Because of its unusual figure and rarity it is much prized by collectors as a museum piece. Photo by W. R. Jillson, 1927.
CONTENTS
In cooperation with the Kentucky Geological Survey (University of Kentucky)
Although this text was originally published in 1931, it remains an important contribution to the paleontology of Kentucky. Some of the data and many of the names have changed over the decades, however, the text is still a valuable source of information.
Don Chesnut