C. Frank Shoop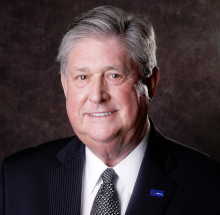 Offices/Positions Held on the Board:
Chair, Nominating Committee; Member, Academic and Student Affairs Committee; and Member, Finance Committee.
Term:
July 1, 1991

to

June 30, 2014
July 1, 2015

to

June 30, 2027
Mr. C. Frank Shoop is the former President of Frank Shoop Chevrolet-Buick-Chrysler-Jeep-Ram-Dodge Inc. of Georgetown, and co-founder and former Director of Georgetown Bank and Trust Company. He has served as chair of the Kentucky Racing Commission and was a partner in the lobbying firm of Ratcliff and Shoop. He holds a Bachelor's Degree from Eastern Kentucky University (EKU) and was a 1988 EKU Hall of Distinguished Alumni Inductee. He was named the 1989 Georgetown Chamber of Commerce Outstanding Civic Leader of the Year. Shoop has served as the Chair of the Kentucky Select Chevrolet Dealers and Director of the Georgetown Chamber of Commerce. He has also served on the Eastern Kentucky University National Alumni Association Board and the Kentucky Automobile Dealer Association. Mr. Shoop was reappointed to the UK Board  of Trustees in 2015, having previously served from 1991-2014.