C. Frank Shoop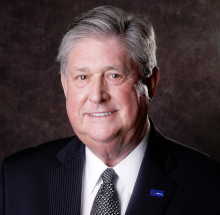 Offices/Positions Held on the Board:
Chair, Nominating Committee; Member, Finance Committee; and Member, Investment Committee.
Term:
July 1, 1991

to

June 30, 2014
July 1, 2015

to

June 30, 2027
C. Frank Shoop is the former Chairman of Frank Shoop Chevrolet-Buick-Chrysler-Dodge-Jeep-Ram Inc. of Georgetown and Cardinal Chevrolet-Buick-Cadillac in Hazard, KY. He was a co-founder and Director of Georgetown Bank and Trust Company. He holds a bachelor's degree from Eastern Kentucky University and was a 1988 EKU Hall of Distinguished Alumni inductee. In 1989 the Georgetown Chamber of Commerce named him outstanding civic leader of the year. Mr. Shoop has served as a Director of the Kentucky Automobile Dealers Association, the President of the Kentucky select Chevrolet dealers and a director of the Georgetown Chamber of Commerce. He is a current member and past Chairman of the Kentucky Horse Racing Commission.