Cathy A. Black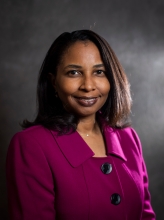 Offices/Positions Held on the Board:
Member, Academic and Student Affairs Committee; Member, Executive Committee; Member, Human Resources and University Relations Committee.
Term:
August 21, 2019

to

June 30, 2025
Cathy A. Black is Senior Producer and BBC Liaison at CBS News in New York. She has worked at CBS News for nearly three decades in a variety of capacities and currently oversees and coordinates the domestic and international partnership between the two media giants. Prior to her promotion to this position, she was Senior Producer of Broadcast Marketing, where she was responsible for the promotion and marketing of "CBS This Morning," the network's critically acclaimed morning news program to the network's affiliated stations.
In her position, Black coordinated the broadcast's interaction with general managers, news directors and assignment desks at CBS stations around the country. She also developed and executed affiliate-marketing strategies for CBS News and CBS Entertainment specials including the Grammy Awards, Academy of Country Music Awards, Tony Awards, Hollywood Film Awards, and primetime programming.
Previously, Black was a Supervising Producer and Music Booker for CBS News' "Early Show" and "Saturday Early Show," where she booked musical guests for the broadcast's outdoor concerts series, features, and news segments. In that position, she produced events throughout the US and overseas at, the Miami Super Bowl XLIV (2010), Los Angeles and New York Grammy Awards, Las Vegas (ACM) Academy of Country Music Awards, and Nashville (CMA) Country Music Association Awards.  She has produced concerts and segments featuring Beyonce, Tina Turner, Aretha Franklin, Prince, Garth Brooks, Sting, Adele, Rihanna, Kanye West, Katy Perry, Lenny Kravitz, Pink, Celine Dion, Mariah Carey, and Marc Anthony.
At CBS News, Black has covered many national and international events. She has worked on CBS News' coverage of the 2012 and 2016 political conventions, the Gulf War, the terrorist attacks of 9/11, Hurricane Katrina, and the Michael Jackson trial. Her abilities to cultivate sources were critical in CBS News landing several exclusive interviews with the Jackson family.
Black joined CBS News in 1990, where she worked on the assignment desk. She later became an assistant to "CBS This Morning" anchor Harry Smith, before becoming an Associate producer.  In 1997, she was promoted to Entertainment Producer at CBS News.
Black began her career in broadcasting as an intern at WKYT-TV and WTVQ-TV in Lexington, KY, and in Washington, DC at WUSA-TV.
Outside of CBS News, Black serves as a tutor and a mentor to young people in New York City and in her hometown of Lexington, KY. She is also on the University Of Kentucky College Of Communication and Information National Advisory Board. Black is a member of Historic Pleasant Green Missionary Baptist Church in Lexington, Kentucky and Calvary Baptist Church in New York, New York. She is a Producer and Music Director for Theatrical Productions at Calvary Baptist Church.
Black earned a BA in Telecommunications at the University of Kentucky. She lives in New York City.