Cathy A. Black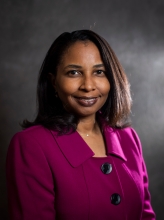 Offices/Positions Held on the Board:
Member, Academic and Student Affairs Committee; Member, Audit and Compliance Committee; and Member, Human Resources and University Relations Committee.
Term:
August 21, 2019

to

June 30, 2025
Cathy A. Black has enjoyed a 31-year career at CBS News. Since joining CBS News in 1990, Black has been involved in the Network's coverage of some of the major events of our lifetime, events including the Gulf War, Presidential elections, 9/11, Hurricane Katrina, the Michael Jackson trial, Grammy Awards, Super Bowls and more.
Black served as the Senior Producer and BBC Liaison of the international partnership. She was also the Senior Producer of Broadcast Marketing, where she was responsible for promoting and marketing "CBS This Morning." There, she developed affiliate-marketing strategies for CBS News and Entertainment specials including the Grammy Awards, Academy of Country Music Awards, Tony Awards, Hollywood Film Awards and primetime dramas.
Previously, she was a Supervising Producer and Music Booker for CBS News' "Early Show" and "Saturday Early Show." She booked and produced concerts and features with Prince, Stevie Wonder, Garth Brooks, Elton John, Whitney Houston, Janet Jackson, Celine Dion, Beyoncé, Sting, Adele, Tina Turner, Mariah Carey, Katy Perry, Rihanna and many others. Special U.S. musical events produced by Black include...Miami Super Bowl XLIV 2010 concerts, Los Angeles and New York Grammy Award concerts, Las Vegas ACM Award and Nashville CMA Award concerts. She produced live international concerts with Lenny Kravitz from Paris, Ringo Starr from Liverpool, and Phantom of the Opera from Paris.
At CBS, Black co-chaired the CBS News Advisory Committee and was a member of the CBS News Employee Council and the CBS News Convention Steering Committee.
Black hails from Lexington, Kentucky. She is a graduate of the University of Kentucky and majored in Telecommunications. Black is a member of the UK College of Communication and Information Dean's Leadership Council and the UK College of Communication and Information National Advisory Board. She is a University of Kentucky Lyman T. Johnson Alumni "Torch of Excellence" Award recipient. Black is the recipient of the University of Kentucky School of Journalism and Media Distinguished Alumni Award. She is a member of the National Association of Black Journalists.
Black is a member of Calvary Baptist Church in New York City and is a producer/director of theatrical productions. She also serves as Vice Chair of the Calvary Council of Missions. She is also a member of Historic Pleasant Green Missionary Baptist Church in Lexington, Kentucky and works in the video streaming ministry.
Cathy A. Black resides in New York City.