Claude A. "Skip" Berry, III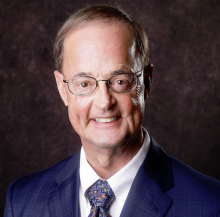 Offices/Positions Held on the Board:
Chair, Audit and Compliance Committee; Member, Executive Committee; Member, University Athletics Committee.
Term:
June 26, 2015

to

June 30, 2027
Mr. Berry of Eminence, Kentucky, is a 1968 graduate of Eminence High School. He received a Bachelor of Science Degree in Civil Engineering from the University of Kentucky in 1973.  He is a licensed professional engineer, land surveyor, a certified construction manager and a past member of the Board of Governors, Construction Managers Association of America.
Mr. Berry has been employed by Wehr Constructors since 1973.  He retired from serving as President for WEHR in 2018.  In his 45 years with Wehr Constructors, Mr. Berry has been personally responsible for over $1 Billion in construction management projects, leading Wehr Constructors to a place in the top 100 Engineering News Record construction management firms and top 400 construction firms in the nation.
Mr. Berry was awarded a University of Kentucky College of Engineering, 2010 Construction Management Founders Society Lifetime Achievement Award, was named a University of Kentucky Henry Stites Barker Fellow in 2015 and was inducted into the UK College of Engineering Hall of Distinction in 2019.
Mr. Berry has served on the Board of Directors, Fifth Third Bank, State of Kentucky, an Elder, Board Chairman and Sunday School teacher of the Eminence Christian Church, and is an Elder at Henry Christian Church.  He was an Eminence School Board Member for seven years and volunteer athletic coach for track and tennis at the Eminence Independent Schools. Mr. Berry was inducted into the inaugural class of the Eminence High School Hall of Fame in 2005.
Mr. Berry and his wife, Joyce, a retired nursing home administrator, have three children Claude A. "Buddy" Berry, IV, Tiffany Berry Payton and Tara Berry McMahan.  They also cherish time spent with their nine grandchildren.