Elizabeth McCoy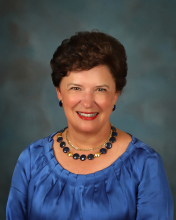 Offices/Positions Held on the Board:
Audit and Compliance Committee, Member; Finance Committee, Member; and Investment Committee, Member.
Term:
October 19, 2017

to

June 30, 2022
May 11, 2023

to

June 30, 2028
Elizabeth McCoy is the CEO of Planters Bank in Hopkinsville, KY. Planters Bank is comprised of locations in Western Kentucky and Montgomery County, Tennessee.
She currently serves on the Board of Directors of the Federal Reserve Bank of St. Louis; University of Kentucky Board of Trustees; Kentucky Economic Development Partnership Board; past Chair of the Kentucky Chamber of Commerce; and serves on several other boards and committees including the Hopkinsville Industrial Foundation, Hopkinsville/Christian County Economic Development Council, and the Dean's Advisory Council for Gatton College of Business. Mrs. McCoy recently received the Martha Layne Collins Leadership Award, as well as the Laurel County Homecoming Out of Towner Award.
She is originally from London, Kentucky and a graduate of the University of Kentucky and the Gatton School of Business. She holds an MBA and is a Certified Public Accountant. Ms. McCoy is married to Hal McCoy and has one son.