Hollie Swanson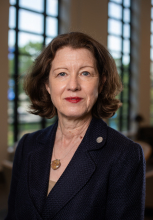 Offices/Positions Held on the Board:
Member, Audit and Compliance Committee; Member, Investment Committee; and Member, University Health Care Committee.
Term:
July 1, 2020

to

June 30, 2023
July 1, 2023

to

June 30, 2026
Dr. Hollie Swanson came to the University of Kentucky in 1995 after completing a Bachelor's Degree in Chemistry from South Dakota State University, a Master's in Food Toxicology from Oregon State University, a Ph.D. in Food Science from Purdue University, and postdoctoral fellowships in Biochemistry from Michigan State University and Pharmacology from Northwestern University. 
Dr. Swanson is currently a professor in the Department of Nutritional Sciences and Pharmacology where she is involved in teaching undergraduate, graduate, dental, and medical students.  She currently directs the Summer Undergraduate Program in Environmental Health and Pharmacological Sciences, and is the Director of the Women's Executive Leadership Development program.  She has been very active in training students and currently serves as the Director of the Biomedical Science Graduate Program for the College of Medicine.  Dr. Swanson is a passionate advocate for promoting the training of young scientists and advancing the careers of women at all stages. 
Dr. Swanson's research focuses on drug metabolism and the health impacts of environmental contaminants, which has been funded by the National Institute for Environmental Health Sciences since 1996, and is published in both pharmacology and toxicology journals.  She is an active member of the UK Superfund Research and UK Center for Appalachian Research in Environmental Sciences.  At the University, she has played leadership roles in numerous committees focused on advancing the careers of women faculty and enhancing diversity.  She has served on the College of Medicine Faculty Council, the University Senate, and the University Senate Council, and served as the Senate Council Chair from 2010-2012.