James F. Hardymon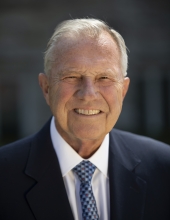 Offices/Positions Held on the Board:
Community Advisory Member, Investment Committee; Past Chair, Board of Trustees; Past Chair, Executive Committee.
Term:
July 1, 1992

to

June 30, 1999
July 1, 2003

to

June 30, 2009
Mr. James F. Hardymon graduated from the University of Kentucky with a Master of Science and Bachelor of Arts in Civil Engineering.
He is the retired Chairman and CEO of Textron Inc., after also serving as President, COO, and Director.
Hardymon was Vice Chairman, Chief Operating Officer, Director, and President of the Emerson Electric Company. He began his business career at Browning Manufacturing Company.
Mr. Hardymon currently serves as a Community Advisory member for the Investment Committee.