Jennifer Yue Barber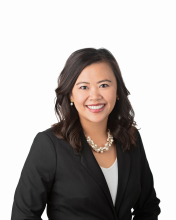 Offices/Positions Held on the Board:
University Health Care Community Advisory Member; Past Vice Chair, Board of Trustees; Past Chair, University Athletics Committee; Past Vice Chair, Executive Committee; Past Member, Audit, Finance, Human Resources and University Relations (HRUR), and Investment Committees.
Term:
August 20, 2016

to

November 22, 2019
Ms. Jennifer Yue Barber is a Member at the law firm, Frost Brown Todd LLC, where she practices in its Louisville office.  She focuses her practice on state and local tax, economic development, and government affairs.  She previously served in the U.S. Department of State as Special Advisor to the United States Ambassador to the United Nations and United States Delegate to the 75th UN General Assembly where she advised on foreign policy and worked on issues relating to human rights and humanitarian aid.  
She earned her bachelor's degree and Juris Doctor from the University of Kentucky.
Ms. Barber currently serves on U.S. Bank's Advisory Board and previously served on the Kentucky State Fair Board, Board of Directors for the Kentucky Bar Foundation, and Louisville Bar Association.  She has been named to Best Lawyers®, Kentucky Rising Stars®, and Martindale Hubbell's Registry of Preeminent Women Lawyers.  She was honored by Business First of Louisville as its "Enterprising Woman to Watch" and named to Louisville's "Forty Under 40."   
She is a Frankfort, Kentucky native and now resides in Louisville with her husband, Andy, and two daughters. 
Ms. Barber currently serves as a Community Advisory member for the University Health Care Committee.