Joe Rollin Bowen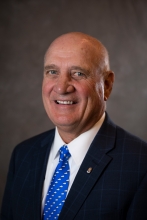 Offices/Positions Held on the Board:
Member, Finance Committee; Member, Investment Committee; Member, University Athletics Committee.
Term:
August 21, 2019

to

March 8, 2022
Senator Joe Bowen is a retired Kentucky State Senator who represented the 8th District (Owensboro), and a small business owner, Bowen Tire, which was founded by his father in 1949.  
As Senator, he served as the chair of the State and Local Government Committee and also served as co-chair of the State Employee Pension Oversight Board. He served on the Licensing and Occupations Committee, the Transportation Committee, the Health and Welfare Committee, the Judiciary Committee, and the Subcommittee on Energy. He also served as a liaison member of the Budget Review Subcommittee on General Government, Finance, and Public Protection. Senator Bowen has served as chairman for the Owensboro YMCA and the Kentucky State Parks Foundation, and has served as a Board member of the Owensboro, Davies County Hospital, Inc. and is an alumni of the National Conference of Advance Leadership Skills.
After graduating from Daviess County High School in 1968, he attended the University of Kentucky and graduated with a degree in Business Administration in 1972. Senator Bowen has long been an advocate of youth sports, serving as both a coach and administrator for several youth sports organizations. He resides in Owensboro with his wife, Vicki, and is the father of two children, Adam and Joy, and grandfather of five grandchildren.