Michael A. Hawse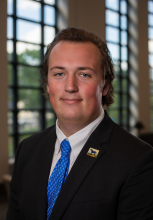 Offices/Positions Held on the Board:
Member, Academic and Student Affairs Committee; Member, Audit and Compliance Committee; Member, Finance Committee.
Term:
July 1, 2021

to

June 30, 2022
Michael Hawse, a Lexington native, is a 2022 graduate of the University of Kentucky College of Arts and Sciences with a B.A. in Political Science. 
As Student Body President for the 2021-2022 academic year, Hawse and his administration emphasized the importance of every student looking back at their experience in Lexington and on campus as their best years. Through emphasizing the student voice and being intentional on including voices which have traditionally not been at the table in UKSGA, Hawse was dedicated to making sure that every student knows how important and valuable their voice is. Results from this included more advocacy and services for graduate and professional students along with overseeing fairer and more equitable election strategies.  
With his tenure on the Board of Trustees ending on June 30, 2022, Hawse will stay at the University of Kentucky attending the J. David Rosenberg College of Law.
Hawse plans to use his experience to continue advocating for students, the University, and the state of Kentucky long past his time on the Board of Trustees.