Rachel Watts Webb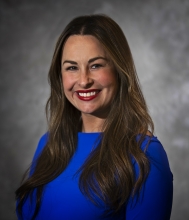 Offices/Positions Held on the Board:
Chair, Academic and Student Affairs Committee; Secretary, Executive Committee; and Member, University Athletics Committee.
Term:
July 27, 2018

to

June 30, 2024
Ms. Rachel Watts Webb, from Shelbyville, Kentucky, received a Bachelor of Arts in Integrated Strategic Communication from the University of Kentucky in 2005. Before graduating with a 4.0 GPA, she served two terms as Student Government President and two years on the UK Board of Trustees. Webb chaired the Kentucky Board of Student Body Presidents, and was a member of Alpha Delta Pi sorority, Campus Crusade for Christ, Panhellenic Council, Emerging Leaders Institute, 2004 Homecoming Court, Omicron Delta Kappa, and Phi Beta Kappa. She received the 2005 College of Communication and Information Dean's Award.
After graduation, she became the UK Government Relations coordinator, working with the State Legislature in Frankfort, as well as organizing grassroots alumni advocacy efforts throughout the Commonwealth.
She has remained committed to nonprofit organizations throughout her career, providing outreach for the Children's Hospital Foundation, as well as working as Executive Director of the Kentucky Academy of Eye Physicians and Surgeons. Webb has served eight years on the UK Alumni Association Board of Directors, including the following committees: Executive, Finance (Vice Chairwoman), Membership (Chairwoman), Communications (Vice Chairwoman), Nominating for Board and Club Development (Chairwoman). She was also a founding member of the UK Young Alumni Council.
In 2014, she received the Joseph T. Burch Young Alumni Award. Her husband Lee Webb '98 received the same award in 2010, making them the first couple to share the honor. In addition to running a commercial real estate company, Alton Webb & Associates, they are raising three children: Walker, Warren, and Wells. She co-hosts a weekly podcast on motherhood that made the top 25 of the iTunes podcast rankings. She is an alumna of Leadership Shelby, Chairwoman of Painted Stone Elementary FRYSC Council, and she teaches third-, fourth-, and fifth-graders on Sunday mornings at Christ Community Church.