Robert D. Vance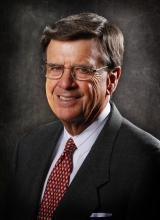 Offices/Positions Held on the Board:
Chair, Board of Trustees (2019-present); Chair, Executive Committee.
Term:
August 1, 2014

to

July 1, 2026
Mr. Robert D. Vance retired from state government in 2014 having served as Secretary of the Public Protection Cabinet, and head of the Cabinet since December 2007. As Secretary, he oversaw the Department of Financial Institutions; Department of Insurance; Department of Housing, Buildings, and Construction; the Kentucky Horse Racing Commission; Alcoholic Beverage Control; Department of Charitable Gaming; Board of Tax Appeals; the Board of Claims/Crime Victims Compensation Board; the Office of Occupations and Professions; and the Kentucky Boxing and Wrestling Authority.
During his tenure as Cabinet Secretary, Vance has also served as a member of the Kentucky Horse Racing Commission's Task Force to enhance the safety and integrity of horse racing in Kentucky. He also chaired the Governor's Task Force on the Study of Kentucky's Alcoholic Beverage Control Laws which led to wide changes in the way in which Kentucky licenses entities that manufacture, distribute, and sell alcohol in the Commonwealth.
In June 2022, the University of Kentucky J. David Rosenberg College of Law inducted Vance into their 2022 Hall of Fame. This program annually recognizes alumni who have reached and remained at the pinnacle of their field for a period sufficient to demonstrate perseverance and/or have made a profound positive influence on the Rosenberg College of Law since his or her graduation. Additionally, the Kentucky Executive Branch Ethics Commission presented Vance the prestigious Livingston Taylor Ethics Award for the 2011-2013 biennium. The Commission established this biennial award program to recognize individuals, programs, or agencies within the executive branch of state government for their outstanding achievements and contributions in promoting the ethical conduct of executive branch employees. 
A native of Grant County, Vance earned Business and Law degrees at the University of Kentucky. He also is a graduate of the Stonier Graduate School of Banking at Rutgers University and the Executive Banking Institute at the University of Louisville. He has spent most of his career in banking, serving as Chairman or Senior Officer of a number of banking institutions across Kentucky, Ohio, and Indiana.
He and his wife Judy, have one son, four daughters, and nine grandchildren.