Ron Geoghegan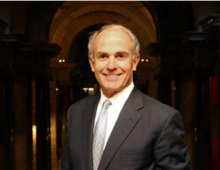 Offices/Positions Held on the Board:
Member, Nominating Committee; Member, University Health Care Committee; and Board of Trustees Member, UK Research Foundation Board.
Term:
September 3, 2020

to

June 30, 2026
Ron Geoghegan retired  from his government relations career in September of 2019, after spending eleven years with the McCarthy group in Frankfort, that followed his 30 years with BellSouth /ATT. 
 
As chief lobbyist for BellSouth Kentucky from 1987 to 2007, Geoghegan represented Kentucky's largest telecommunications company before federal, state and local officials. He developed cutting-edge public policy initiatives for the legislature, including direct lobbying, messaging, grassroots activities, political action committees, third-party support, and coalition-building. These efforts led to the passage of a series of major telecommunications industry deregulation bills.
Further, Geoghegan has a long history of statewide leadership in higher education, science, technology and innovation. As chair of Kentucky Advocates for Higher Education, Geoghegan played a key role in garnering support for sweeping educational reform set forth in the 1997 HB 1.
 
From 2001 to 2019, he served as chair of the Kentucky Science and Technology Corporation and co-chair of the Kentucky Initiative for Advanced Placement in Math, Science and English. He is former chair of the St. Catherine College Board of Trustees, and the Public Policy Forums of the State Chamber of Commerce. He has also served on the boards of Leadership Kentucky and the Commission on the Future of the South.
Geoghegan currently serves on the Board of Governors at the Speed Art Museum and on the Executive Committee of the Olmsted Parks Conservancy, both Louisville entities.  
Geoghegan holds a B.A. in journalism from the University of Kentucky and an M.B.A. from Bellarmine University. He and his wife, Mary Leslie Land, have one son, Joe.