#22 olive bodied Adams (OBA)
#22 OBA tied by Chris Knight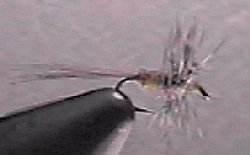 Date: Mon, 2 May 1994 14:47:00 EDT
Reply-To: Fly Fishing Digest
Sender: Fly Fishing Digest
From: Norm Crisp
Hello Net
I've saved all the posts about OBA being tsuch a tie that binds this net together. As Ethan and I are going through those hard times of fathers and sons it gives me great joy to know that we have touched so many in such a unique way. I'm, and I'm sure Ethan as well, honored to hear how it embodies our group. In the words of that great philospher of our times, Bob Seger, "Fine Memories, Think I'm going to take them with me". Of coures he also said "I used her and she used me but nobody cared".
| | |
| --- | --- |
| | |
| Hook: | Orvis size 22 big eye |
| Thread: | Olive #8 waxed |
| Tail: | Mixed grizzely and rusty brown hackle fibers |
| Body: | Orvis olive natural camal dubbing |
| Wings: | As Conrad says "so small you cant see them with the naked eye" |
| Hackle: | one grizzley and one rusty brown wrapped forward together. |
Basicly just tie an adams with olive dubbing for the body.
I like it to be know as E's OBA.
Thanks from a proud but sad father
Norm the WIZ
---
In 1995 the question comes up again.
Re: OBA?
Date: Fri, 3 Nov 1995 17:51:24 -0500
Reply-To: Fly Fishing Digest
Sender: Fly Fishing Digest
From: Sheldon Seale
Donald Yelton asks:
1.) What the hell is an OBA and if it is not a 22, is it really an OBA?
2.) Why do the old farts on the list talk about it?
Ah yes, the old OBA question again. This question occurs periodically. In fact, you can establish your tenure with the list by saying that you've been subscribed for X rounds of the OBA question.
First the acronym - OBA which stands for Olive Bodied Adams. Size 22 because its a challenge. Old farts talk about it because its a portion of the "Lore of the List".
Developed by "son of WIZ", I believe. Its starting to become a "legitimate" pattern because the "Lore of the List" says it is! It also works!
The original Adams was tied with muskrat dubbing on light yellow (aka. Primrose) thread. This actually takes on an olive hue when wet. I guess olive dubbing was harder to come by back then. In the List's version, we have dispensed with the gray and simply tie it with olive. Simplifies the whole thing and simple is what you want when you're tying a 22 dry fly. I've had the honour of tying a somewhat larger version as a "prize" at the NECII event and, despite the lubrication at the time, managed to demonstrate a reasonable facsimile of the 22 OBA by lantern light. Heh, heh! Can't wait to try that again, right Luis! In consideration of the refreshments, I did resort to Cree hackle instead of mixed Grizzly and Brown. However, no one seemed to notice or complain.
Pattern follows:
Hook: size 22 up eye dry fly (Mustad 94842, or equivalent)
Thread: 8/0 Olive
Tail: mixed grizzly and brown hackle fibers (substitute Cree)
Body: olive dubbing
Wings: grizzly hackle tips (hen, if possible)
Hackle: mixed grizzly and brown hackle (substitute Cree)
Tie as any dry fly. Avoid too many single malts along the way and good lighting helps! The 5/0 NECII version requires a little imagination but, if I managed, any one else can.
I hope this clears up the confusion. I can't be reminded of the 22 OBA without it bringing back some terrific memories. Its become a kind of 'calling card' or 'coming of age' symbol for the list.
TL&SR,
Sheldon
---
In 1996 Norm posts a bit more and reveals the OBA emerger ...
History: OBA is the soul/essence of the list. Developed by Ethan Crisp at the request of his dad, Norm Crisp. OBA is simply an Adams with an Olive body rather then a gray body. I've never seen one larger then a 20. the real thing is 22. Since I'm not a gear person that also applies to tying materials so I can't give hook types, thread sizes and all that. for me the Orvis Big Eyes are the only way to go. The OBA emerger is Olive dubbing ( I prefer Orvis camel hair) with a mixed brown/grizzly wing case/wing. Tie in the mixed hackle fibers about a short 1/2 way down the shank. dub up to then slightly thicker in front of the fibers. Pull the fiber forward to form a wing case. Splay the ends back like a compairadun and trim them to a "nub - medium nub".