DAMSEL BUGS
Critter Files/Insects/True Bugs/Damsel Bugs
By Blake Newton
University of Kentucky Department of Entomology
Common Kentucky Damsel Bugs:
TAXONOMY
KINGDOM: Animalia | PHYLUM: Arthropoda | CLASS: Insecta | ORDER: Hemiptera | FAMILY: Nabidae (damsel bugs)
Other Names: Nabids
WHAT IS A DAMSEL BUG?
LIFE CYCLE
ECOLOGY
PEST STATUS
COMMON KENTUCKY DASMEL BUGS
COLLECTING & PHOTOGRAPHY
DAMSEL BUG FACTS
MYTHS, LEGENDS, AND FOLKLORE
WHAT IS A DAMSEL BUG?
Damsel Bugs (often called "nabids," from the family name Nabidae) are in the order Hemiptera which also includes assassin bugs, stink bugs, plant bugs, and many other insects. All insects in Hemiptera share a few characteristics, including piercing and sucking mouthparts, and wings which are membranous and clear at the tips, but hardened at the base.
Damsel bugs resemble a cross between a stink bug and a praying mantid. Like stink bugs, damsel bugs have a somewhat flat, five-sided shape. Like mantids, damsel bugs have spiny "raptorial" front legs used to grab prey. Most damsel bugs in Kentucky are about 1 cm long and are tan or gray in color.
Damsel Bug, Nabis sp., showing raptorial front legs
(R. Bessin, 2001)
SIZE: Body length up to 3/8" long
LIFE CYCLE
Like all Hemiptera, damsel bugs go through a simple metamorphosis with egg, nymph, and adult stages. During warm months, female damsel bugs insert eggs into the stems of low-growing plants. The eggs hatch soon afterward. Damsel bug nymphs look like small, wingless versions of the adults. As they grow, the nymphs molt (shed their skins) several times before turning into full-grown adults. Most damsel bugs spend the winter as adults or large nymphs.

ECOLOGY
Damsel bugs are predators that live on low-growing plants where they capture and eat aphids, caterpillars, and other insects. In Kentucky, damsel bugs are especially common in agricultural habitats, such as soybean, corn, and alfalfa, where they feed on many pest species. Although damsel bugs are predators, they are sometimes prey for spiders, assassin bugs, birds, and other creatures.
PEST STATUS
Damsel bugs are not pests, and are believed to be beneficial insects. They are known to feed on several economically important pests, including caterpillars like the corn earworm, soybean looper, and green cloverworm. However, damsel bugs also feed on other predators, like assassin bugs, minute pirate bugs, and big-eyed bugs. In fact, all of these predators feed on one another, a phenomenon called "intraguild predation" by scientists.
COMMON KENTUCKY DAMSEL BUGS
DAMSEL BUGS, NABIS spp.
GENUS: Nabis
The most commonly encountered damsel bugs in Kentucky are in the Nabis genus, most of which are tan in color and 3/8" long when fully grown. Nabis americoferus and Nabis roseipennis are particularly common in clover, soybeans, and alfalfa. Damsel bugs in the Nabis genus are also found in fence rows, gardens, and other habitats with low-growing, sunlit vegetation.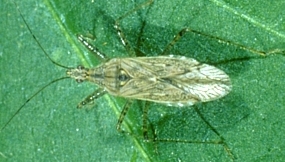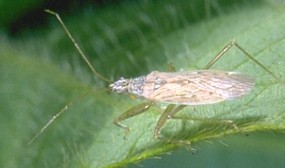 Damsel Bugs in the Nabis genus (R. Bessin, 2001)
COLLECTING & PHOTOGRAPHY
Although damsel bugs are fairly common, they are sometimes difficult to find. Damsel bugs tend to stay low to the ground, often hidden within thick vegetation. With patience, damsel bugs can usually be found if a patch of alfalfa or clover is closely examined on a warm summer day. Damsel bugs can almost always be captured in a sweep net when used on a hot day in alfalfa, clover, or soybean.
Although damsel bugs are able to fly, and can run quickly at times, they will usually remain still long enough to snap a picture as long as they are not disturbed, especially on a summer morning before the heat of the day arrives. If you get lucky, you may find one catching and eating prey.
DAMSEL BUG FACTS
"Damsel bug" may not seem like a good name for a predatory insect. Damsel bugs are so-called because they hold their front legs up, almost as though they were lifting a skirt hem for a spin around the dance floor.
Although many damsel bugs resemble the ones shown on this page, some closely resemble ants, such as this one pictured at the Garden Safari website.

MYTHS - LEGENDS - FOLKLORE
Do you know any myths, legends, or folklore about damsel bugs? Let us know if you do!
---
Original document: 25 May 2004
Last updated: 25 May 2004

Photos courtesy R. Bessin and B. Newton, University of Kentucky
The Kentucky Critter Files are maintained by Blake Newton, Department of Entomology, University of Kentucky.
Contact: blaken@uky.edu