DOBSONFLIES & FISHFLIES
Critter Files/Insects/Dobsonflies & Fishflies
By Blake Newton
University of Kentucky Department of Entomology
TAXONOMY
KINGDOM: Animalia | PHYLUM: Arthropoda | CLASS: Insecta | ORDER: Megaloptera (dobsonflies, fishflies, and alderflies)
WHAT IS A DOBSONFLY?
LIFE CYCLE
ECOLOGY
PEST STATUS
COMMON KENTUCKY DOBSONFLIES
COLLECTING & PHOTOGRAPHY
DOBSONFLY FACTS
MYTHS, LEGENDS, AND FOLKLORE
WHAT IS A DOBSONFLY?
Like all insects, dobsonflies and fishflies have 6 legs, 2 antennae, and 3 body parts. Adult dobsonflies and fishflies are large and have 2 pairs of wings and chewing mouthparts. They resemble dragonflies, but dobsonflies and fishflies cannot fly as well as dragonflies. Also, dobsonflies and fishflies hold their wings over their backs when they are not flying: dragonflies are unable to fold their wings over their bodies.

Male dobsonflies have sickle-shaped mandibles that are more than twice the length of their heads. The mandibles on female dobsonflies and both male and female fishflies are much shorter. Otherwise, dobsonflies and fishflies are very similar in appearance, with dobsonflies generally being larger. Dobsonfly and fishfly larvae are fully aquatic and resemble wingless adults. They have chewing mouthparts and 7-8 filaments on the sides of their abdomens. Dobsonfly and fishfly larvae are often called "hellgrammites."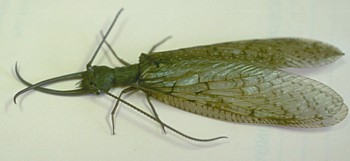 Male Eastern Dobsonfly (R. Bessin, 2000)
SIZE: Body length of adults and larvae up to 2" long.
LIFE CYCLE
Dobsonflies and fishflies have complete metamorphosis. After hatching from eggs, young dobsonflies and fishflies live underwater for several years before coming to land to pupate. The pupal stage lasts for the winter and spring, after which the winged-adults emerge. The adults typically live for only a few days, just long enough to mate and lay eggs.
Fishfly Larva

(B. Newton, 2003)

Dobsonfly Larva

(B. Newton, 2004)

Close-up of filaments on fishfly larva abdomen (B. Newton, 2003)

Dobsonfly eggs attahed to a rock (B. Newton, 2005)

ECOLOGY

Dobsonflies and fishflies live most of their lives in the larval stage, often 2 or 3 years. Larval dobsonflies and fishflies, often called "hellgrammites", are large, worm-like, aquatic predators that live under rocks and logs in streams. They feed on minnows, tadpoles, insects, and other aquatic prey. Hellgrammites require very clean, unpolluted water to live. Most adult dobsonflies and fishflies do not feed at all.
PEST STATUS
Dobsonflies and fishflies are not considered pests.
COMMON KENTUCKY DOBSONFLIES
EASTERN DOBSONFLIES
FAMILY: Corydalidae | GENUS: Corydalus cornutus
The Eastern Dobsonfly is the most commonly encountered dobsonfly in Kentucky. It is among Kentucky's most distinctive insects and is sought after by collectors and photographers. Below is a female eastern dobsonfly: note that her mandibles are much smaller than those of the male pictured above.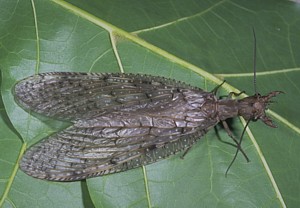 Female Eastern Dobsonfly (B. Newton, 2002)
COLLECTING & PHOTOGRAPHY
Dobsonfly and fishfly adults are a challenge to find because they are only around for a few weeks each year. Look on rocks and logs near streams in the early summer. Hellgrammites can usually be found under rocks year round in clean, fast-flowing streams. Look out, because they can bite! They are slow-moving, however, and will usually remain still for a photograph if they are not touched.
DOBSONFLY FACTS
Although they are not as sensitive to pollution as stoneflies and mayflies, hellgrammites still need clean water to live. Fisherman once commonly used hellgrammites as fish bait, but polluted streams have made hellgrammites less common.
Scientists can tell how polluted a stream is based on what aquatic insect species are present. Read more about using insects to determine water quality:
http://www.aces.edu/pubs/docs/A/ANR-1167/ANR-1167.pdf

MYTHS - LEGENDS - FOLKLORE
Dobsonfly larvae go by several different names, including "hellgrammite," "grampus," and "go-devil."

---
Original document: 25 May 2004
Last updated: 19 Dec 2006

Photos courtesy R. Bessin and B. Newton, University of Kentucky
The Kentucky Critter Files are maintained by Blake Newton, Department of Entomology, University of Kentucky.
Contact: blaken@uky.edu