SAP Business Warehouse & Business Explorer
---
What is SAP Business Warehouse?
SAP Business Warehouse (SAP BW) is SAP's enterprise data warehouse product. It can transform and consolidate business information from virtually any source system. In SAP BW, you can integrate, transform, and consolidate relevant business information from productive SAP applications and external data sources. Decision makers can make well-founded decisions and identify target-orientated activities on the basis of the analyzed data.
What is SAP Business Explorer (SAP BEx)?
SAP Business Explorer (SAP BEx) provides flexible reporting and analysis tools that you can use for strategic analysis and supporting the decision-making process. BEx tools can be used to display past and present data in different levels of detail and from different perspectives.
What's the difference between SAP BW and SAP HANA?
SAP BW is a set of definitions and tools which allow users to extract data from SAP ERP systems (e.g., Operations, Financials, Human Capital Management, etc.) and load it into a separate database (like SAP HANA or Microsoft SQL Server). On the other hand, SAP HANA is a database. It serves as a place to store data and retrieve it later.
How do I change the way SAP GUI looks?
To change the look and feel of SAP GUI, follow these steps:
Select the Customize Local Layout icon in the SAP GUI menu bar (ALT+F12).
In the context menu that appears, select Options.

Select your preferred theme using the Theme dropdown menu.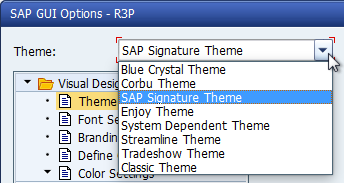 Click the OK button.
Restart SAP GUI so the changes will take effect.
There are also additional features available to you for each theme under the Visual Design menu option. For example, you can change fonts and define custom colors. The options available differ depending on the theme you select.
How do I run and save a query in SAP Business Explorer (BEx) Analyzer?
Please refer to this document for a step-by-step guide on how to run and save queries in BEx Analyzer.
I still have questions. Who can I contact?
For questions, or to get more information about SAP BW or SAP BEx, please refer to the IRIS Business Warehouse help page. If you still have questions, feel free to contact us.