KGS Home > KYCCS Home


KYCCS Western Kentucky Deep Test
---
Contacts:
KGS marks completion of CO2 deep well success
Carbon dioxide successfully injected at Hancock County Test Site
Photos of the Hancock County Deep Carbon-storage project
Drilling Began April 23 on the Western Kentucky Deep Test
Lane Report story on carbon research at UK (Used with permission, Lane Communications Group)
Agenda: Western Kentucky Project Planning Meeting, KGS Lexington Core Library, January 8, 2009
Deep Seismic Reflection Survey in Hancock County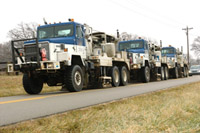 Staff of WesternGeco Corporation conduct a deep seismic reflection survey in the vicinity of the planned carbon dioxide test injection well in Hancock County. The survey, when completed, will provide KGS geologists additional information about the deep subsurface geology of the region. A short video shows three large seismic vibrator trucks in action along Highway 1265 in Hancock County on December 18. Click on the photo or here to view the video.

More photos of the deep seismic reflection survey (click on each text line):
Western Kentucky Project Planning Meeting, KGS Lexington Core Library, December 11, 2008
Hancock County wellsite construction work
Hancock County wellsite survey
Hancock County shallow seismic survey
Western Kentucky Project Planning Meeting, KGS Lexington Core Library, November 6, 2008
WESTERN KENTUCKY SEQUESTRATION SUB-PROJECT MEETING, October 2, 2008
Advisory Committee Meeting: 21-Aug-2008, 9 am, Kentucky Geological Survey Well Sample and Core Repository
Meeting with U.S. EPA Region IV, Atlanta, Georgia, 12-Aug-2008:
Advisory Committee Meeting, 24-Jul-2008:
Advisory Committee Meeting, 19-Jun-2008:
Advisory Committee Meeting, 22-May-2008:
Advisory Committee Meeting, 27-Mar-2008:
Advisory Committee Meeting, 5-Mar-2008:
Advisory Committee Meeting, 21-Feb-2008:
Advisory Committee Meeting, 7-Feb-2008:
Advisory Committee Meeting, 22-Jan-2008:
Meeting Agenda (1/9/08): Jan. 9, 2008: West Kentucky Deep Saline Test
Presentations:
Submit requests to add events to the calendar to KYCCS.org
If you have an application or device that supports the ICal format, copy and paste this URL to link to the calendar:
http://www.google.com/calendar/ical/bmfi15avg0ung7u0gd2o7ht7fk%40group.calendar.google.com/public/basic.ics