What's the Impact of the Coaches Institute?
To date, 55 Fellows (participants) have graduated from the Coaches Institute in North East Kentucky. Another 29 are currently involved in the 16-month training program in South Central Kentucky.
Accomplishments include the following:
1) In a region marked by county boundaries, a new regional identity among those trained. Six ran for political office on pro-entrepreneurship platforms. Alumni have met every six months as a group since 2005 and keep journals about their time commitment for entrepreneurial initiatives.
2) According to a final evaluation report made by external evaluators (Feb. 2007):
- - 55 Fellows graduated from the institute in 2005 and 2006;
- - Fellows made 1516 contacts with entrepreneurs and
service providers;
- - Fellows made 131 formal presentations to community
leaders;
- - Fellows coached 161 aspiring entrepreneurs;
3) According to an alumni survey conducted in the summer of 2008, the following impacts were identified due to volunteer coaching efforts in 2006 and 2007:
- - 94 new businesses have started;
- - 57 businesses have expanded;
- - 131 new jobs have been created;
- - $3 million in new grants have been stimulated by alumni;
- - alumni have spearheaded visioning/strategic planning in
3 counties;
- - a new chamber of commerce has started;
- - youth entrepreneurship programs and a leadership
program have been developed.
- Mini-grant initiatives have focused on areas such as sustainable agricultural practices, eco-agricultural tourism, development and implementation of a regional entrepreneurship center. Multiple ventures have been created because of these mini-grant projects. We anticipate more accomplishments from the current class of Fellows when they graduate in October 2009.
How Can Fellows Impact Entrepreneurial Culture?
Fellows in the Institute impact their region in many ways. They serve as leaders, coaches and more importantly as social entrepreneurs who collaborate on mini-grant projects that address entrepreneurship within the region. Throughout their time in the Institute the Fellows are asked to develop mini-grant projects that work to impact entrepreneurship throughout the region. Mini-grant projects are inspired by E-Community Tours, tools and lessons learned throughout the seminars, and an inventory of assets present within the region. The Fellows work to build upon their collective strengths to develop initiatives that foster entrepreneurship in the region.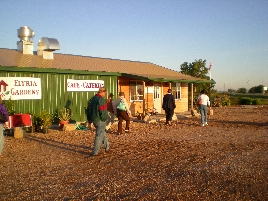 KECI Fellows meet with entrepreneur Roy Farren, CEC at Elyria Gardens in Elyria, NE.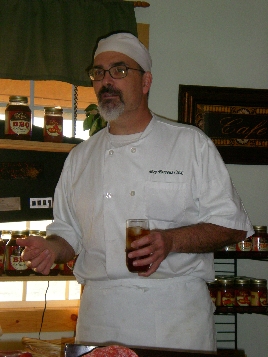 KECI Fellows meet with entrepreneur Roy Farren, CEC at Elyria Gardens in Elyria, NE.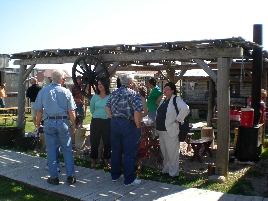 KECI Fellows visit with entrepreneurs at High Plains Homestead in Northwest Nebraska. High Plains Homestead is located 20 miles off of the main road and has found its niche in the tourism industry.
What Are Some Examples of Previous Mini-Grant Projects?
Class I
Team 1. New Opportunities on the Farm (Gwenda Adkins, Lynn Baker, Kay Boggs, Teresa Brown, Don Davis, Paula Franke, Anthony Lawson)
This team organized a mini-conference emphasizing alternative crops and agritourism. The goal was to educate local farmers, landowners, elected and appointed officials about the opportunities with alternative crops and agri-tourism related businesses.
Team 2. An Innovation Center for the Region (Melony Furby, Craig Miller, Annette Walters)
This team worked to gain support for creating an Innovation Center in a six county region (Bracken, Fleming, Lewis, Mason, Nicholas and Robertson counties) to be housed at Maysville Community and Technical College. This Center would be the starting point for entrepreneurs in the region to gain access information and assistance for their business ventures.
Team 3. Unbridled Business (Johnathan Gay, Larrey Riddle, Kristel Smith, Rebecca Smith, Rebecca Webb)
The goal of this team was to create a public relations campaign to increase awareness and knowledge of entrepreneurship within the region. The vehicle they chose to facilitate this campaign was the creation of a website – www.unbridledbusiness.com. This user-friendly website offers easy to understand information for entrepreneurs and directs them to the resources that can help them, including the KECI fellows in the entire 19-county region.
Team 4. Harrison-Nicholas County School-Based Enterprise Project (Alyson Arthur, Avi Bear, Bob Bedford, Alex Kazunas)
The goal of this project was to create a web-based, student run school store and to facilitate the sales and marketing of student-produced products and services. The store was established at Harrison County ATC, in partnership with the teachers and staff at the school.
Team 5. Wood Shims Contest (Mike Jackson, Gail Lincoln, Sue Nickell)
The goal of this project was to discover products made from wood shims that could be commercialized, becoming the basis for either home-based or mass production enterprises in the region. To achieve this goal, the team organized a Wood Shims Contest to identify potential products.
Team 6. Youth Entrepreneurial Program (Jim Cooksey, Becky Fogle, Keith Herrin, Kim Strohmeyer, Tony Watkins)
The goal of this project was to establish at least one high school Youth Entrepreneurial Program (YEP) in each of the four counties served by the fellows on the team. The idea was to train teachers in web design and they, in turn, would train students in web design and the basics of starting a business.
Class II
Team 1. Kentucky Youth Challenge 2007 (John Hodge, David Kramer, Ralph Brown)
The goal of this project was to establish the Kentucky Youth Challenge contest to bring awareness of entrepreneurial opportunities to the youth in Kentucky, especially the Highlands area of Eastern Kentucky (the focus area for KECI). The intent was to have students (20 years old and younger) form teams to develop ideas for new products or services.
Team 2. Innovative Farmer Award Program 2006 (Terri Cline, Sarah Fanin-Holliday, Linda Hieneman, Barbara Howard, Dail Howard, Dennis Perry)
The goal of this project was to increase public awareness of successful agri-entrepreneurs in Elliott, Greenup, Morgan and Rowan counties in eastern Kentucky. "The purpose of the 2006 Innovative Farmer Awards Program is to identify and recognize farmers who demonstrate the spirit of entrepreneurship while cultivating new farmer-to-farmer relationships" (Program Brochure).
Team 3. The Nor-Easter: Taking the Region by Storm (Larry Brown, Charlotte Dixon, Toni Eddleman, Pati Porter, Karen Towles, Jennifer Vaden)
The goal of this project was to stimulate interest in entrepreneurship and promote an entrepreneurial culture by developing a regional newspaper page and holding a writing/photography contest for youth.
Team 4. ArtsLink Mini-Grant (Robert Barker, Russ Conrad, Janet Pelfrey)
The goal of this project was to increase support for artisans and organizations serving local artisans by developing a flexible grants process based on the unique needs of each artisan. They developed a seminar to help artisans and artists develop and understand their businesses.
Team 5. Students Teaming for Entrepreneurial Progress – STEP (Eric Fagan, Jeremy Faulkner, Kathy Junker)
The original goal for this project was to bring entrepreneurial education to high school students by teaching an entrepreneurship class in the high schools. However, the team discovered that their program was unrealistic given the constraints within the schools. Given their interest in promoting youth entrepreneurship and the connections team members have with particular youth organizations, such as 4H, these team members decided to support the Kentucky Youth Challenge 2007 with their time and mini-grant financial support.
Team 6. Free Range Egg Mini-Grant Project (Scotty Mitchell, Billy Webb)
The goal of this project was to develop entrepreneurs who would produce and sell free range eggs in the region. The plan was to provide the producers with the inputs they needed, including know-how and hens, to develop operations.
Team 7. Targeting High School Youth (Kim Adams-Leger, Dorothy Altman, Gayle Todd, Larry Willis)
The goal of this project was to establish a link between entrepreneurial organizations and resources in the region and high school youth. The plan was to create a partnership between area high schools, the mini-grant groups and other organizations such as Extension, Bluegrass Energy, and Community Ventures.
Class III
Team 1. Kentucky Entrepreneur Advocacy Alliance (Sharon Burton, Sarah Neil Cook, David Dinwiddie, Vivian Gentry, and Tracey Skinner)



Team 2. Entrepreneur Resource Centers (Kaye Bowman, Denise Brooks, Virginia Davis, Barkley Hancock, Melissa Knight, Bill Lytle, Claire McGowan, Karisa Peterson, Micah Terry) The goal of this project is to develop entrepreneurial resource centers throughout seven counties in South Central Kentucky that are promoted through a detailed marketing campaign. Each Entrepreneur Resource Center will include: books identified as the best resources for entrepreneurs (see list at end of document), business cards of the local KECI coaches, a printed list of local resources and their contact information, printed applications for any local licenses required, and rack cards designed by our team about the webpage.





Team 3. Young Entrepreneurs in Action (Hal Goode, Pat Rose, Todd Hoskins, Greg Karsner, Chris Hamilton, Bud Blair, Anita Skaggs, Jim Hatchett, Ann Beard)

The goal of this project is to work with young people in grade 6-12 in Casey, Marion, Taylor, and Washington counties. We plan to introduce them to the concept of entrepreneurship, the work and risks involved, and help them to decide whether they want to pursue a career in their own entrepreneurial business. We plan to implement our approach through existing school programs like DECA, YES, and FBLA.




Team 4. Entrepreneurship Investigation (Danny Adams, Gary Carroll, Thomas Dodson, Bonnie Kilby, and Shannon Hutchinson)



KECI NE KY Class I.
A Visit with Scottish Parliament
Fellows meet during a seminar.
Fellows visiting with an entrepreneur at the Beehive Restaurant in Augusta, Ky.
KECI NE KY Class II
Fellows explore rural entrepreneurship throughout Scotland.
Fellows take part in a seminar.
Fellows meet with resource providers throughout the region.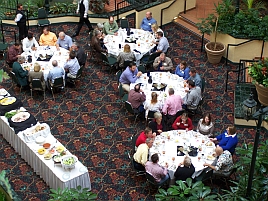 KECI Team #4
KECI Team #4 Frankfort Trip March 2010
KECI Team #4 Fish Fry July 2010