How are Fellows chosen?
Fellows are identified through a rigorous recruitment and selection process. Those individuals who are chosen by an independent selection committee receive a Fellowship valued at $18,000. It covers the costs of nine 2-3 day seminars (including speaker costs), international or national tours, meals, lodging and mini-grant projects. Fellows pay for their transportation to the seminars. Between seminars, they are also expected to do homework involving the community and to coach entrepreneurs.
What's the Curriculum for the Kentucky Entrepreneurial Coaches Institute?
Over a 16 month period, the Fellows are exposed to innovative international, national and regional rural entrepreneurship leaders, educators, coaches and technical assistance providers. The seminars are conducted in Kentucky's tobacco-dependent region. They are intended to provide skills in entrepreneurial leadership, coaching and to broaden networking for change.
While each seminar is unique, there are seven consistent themes in the program:
1) -Visits with innovative entrepreneurs in the region to expand our imagination and to strengthen our networking capabilities;
2) -Integration of local arts – music, poetry, storytelling – into each seminar to open minds and hearts to fresh ideas;
3) -Required "homework" between sessions to foster more engaged and effective leaders;
4) -A focus on assets of the region rather than deficits or problems. This appreciative approach focuses on opportunities waiting to be developed;
5) -Ownership by the participants is foster through independent committees that focus on areas such as gratitude, conflict resolution and accountability.
6) -Commitment. Each Fellow is expected to attend all nine seminars, including a national educational tour. They are also expected to coach at least one entrepreneur and to be involved in regional initiatives to strengthen entrepreneurship. When they graduate from the program, they are expected to make a two-year volunteer commitment to foster entrepreneurship in the region;
7) -The teaching methodology minimizes the lecture format and active engages the participants in dialogue.
How Can You Apply to Be a Fellow?
Candidates for the 2009-2010 Kentucky Entrepreneurial Coaches Institute must have close ties to agriculture, economic development or other civic-minded groups in the 22 tobacco-dependent counties of South Central Kentucky: Adair, Allen, Barren, Butler, Casey, Clay, Clinton, Cumberland, Edmonson, Green, Hart, Laurel, Marion, Metcalfe, Monroe, McCreary, Pulaski, Russell, Taylor, Warren, Washington and Wayne.
Only one applicant per family will be considered by the selection committee appointed by the Governor's Office of Agricultural Policy and the Kentucky Agricultural Development Board and the Center for Rural Development in Somerset. Besides living or working in the 22-county area, other criteria that will be considered in the selection process include:
a commitment to your community through nurturing small businesses or non-profit ventures,

demonstrated leadership qualities

willingness to learn and explore new ways of thinking,

character, personality, and reputation,

ability to participate in seminars and international travel, and

Employer consent.
Thank you for your interest in the Kentucky Entrepreneurial Coaches Institute! Complete applications for participation in the 2009-2010 class of the Institute are due by August 31, 2009. You may download an application for the Institute online and return by mail before the deadline. Please contact Katie Ellis, Program Coordinator, by phone at 859-227-0911 or by e-mail at katie.ellis@uky.edu with any questions that you have about the process. We look forward to receiving your completed application.
KECI Fellows visit with entrepreneurs at High Plains Homestead in Northwest Nebraska. High Plains Homestead is located 20 miles off of the main road and has found its niche in the tourism industry.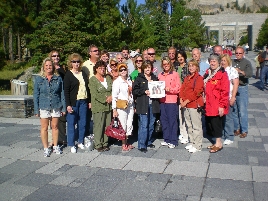 KECI Fellows stop for a photo outside Mount Rushmore during the Western US E-Communities Tour throughout Nebraska.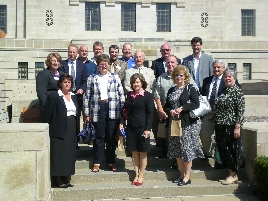 In September of 2008 the KECI Fellows took a Western US E-Communities tour that featured entrepreneurship legislation throughout Nebraska. They are pictured outside the capitol building in Lincoln, NE with Milan Wall of the Heartland Center for Leadership Development.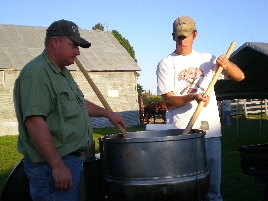 KECI Fellows visit with entrepreneurs Bruce and Sue Ann Switzer at Calamus Outfitters in Nebraska. The Switzers converted their ranch into an outfitting operation and have been featured on Rachel Ray for their "Hayfork Fondue" dinners for guests. The Fellows are pictured outside the lodge at Calamus Outfitters.